Kendall $20K Giveaway
Kendall Chevrolet Of Marysville presents the Kendall $20k Giveaway!
Do you want a shot at winning $1,000-or more?! With Kendall's $20k Giveaway, you could be in luck.
Each month, up to 10 lucky winners have the opportunity to win $1,000 each. The remaining $10,000 will go to a local charity we partner with.
Enter as many times as you'd like throughout the month, but there's a limit of one entry method per week with the exception of vehicle purchases.
At the end of the month, 10 lucky entries will be selected. If your name is selected twice, you win $2,000! If your name is pulled for all 10 entries, you win $10,000!
Come on in, submit an entry, and hope you're one of the lucky winners!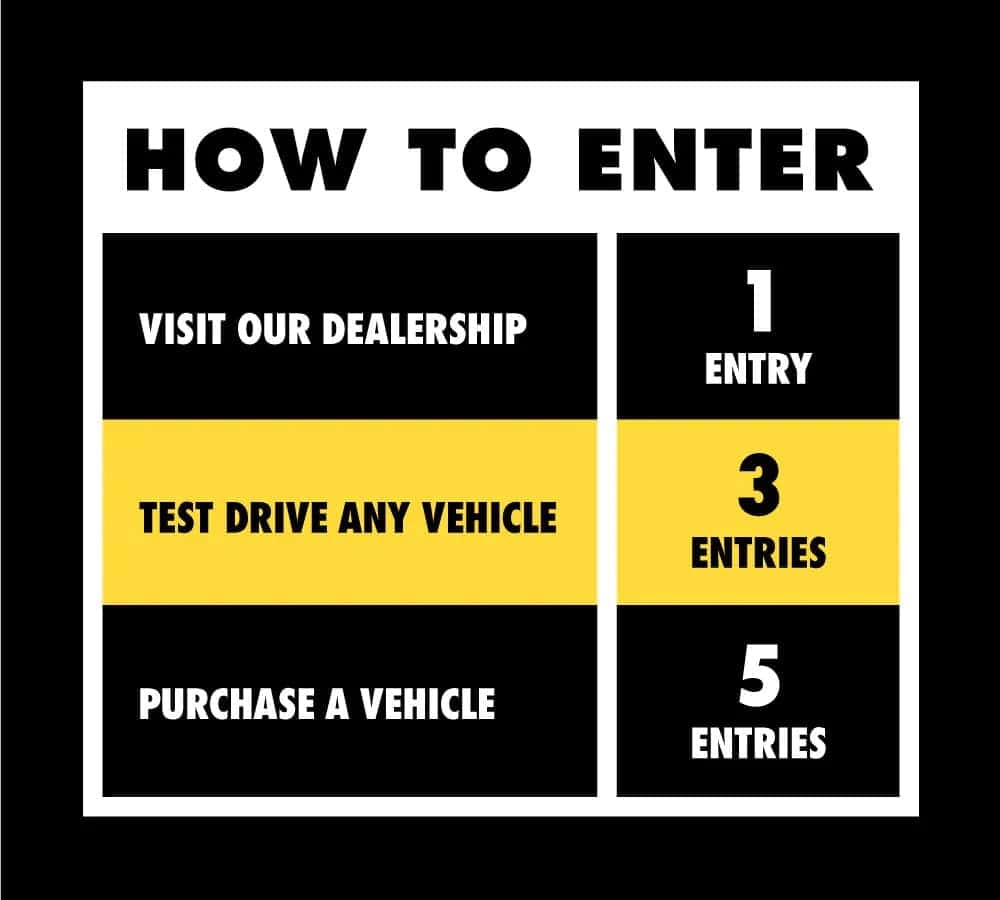 Frequently Asked Questions
1. Who can enter?
The Sweepstakes is open only to legal residents of the 50 United States or the District of Columbia who are least 18 years of age at the time of entry. Residents of New York, Florida and Rhode Island are not eligible to participate in the Sweepstakes and are prohibited from entering. Void where prohibited by law. You must have a valid U.S. Driver's License to enter. Employees of Sponsor or any of its affiliated companies, and the spouses and dependents of those employees, are not eligible to enter or win any Sweepstakes.
2. What is the Kendall $20k Giveaway?
The Kendall $20k Giveaway is a monthly promotional contest where 10 winners will have a chance to win $1,000 a piece. Entries are provided by a customers visiting the store (1 entry), test driving a new or used vehicle (3 entries), or buying a vehicle (5 entries).
3. How many times can I enter this contest?
You can have one entry per week. Whether that is visiting the store (1 entry) or test driving a new or used vehicle (3 entries). Buying a vehicle (5 entries) is the exception, make as many vehicle purchases during the sweepstakes and receive 5 entries for each purchase.
4. When does the contest start/end?
The first Sweepstakes will begin at 8:00 a.m. on January 1st, 2021, and will end at 8:00 p.m. on February 1st, 2021. Each monthly Sweepstakes thereafter will begin at 8:00 a.m. on the first business day after the 1st of each month, and will end at 8:00 p.m. on the 1st day of the next calendar month.
5. Where can I sign up?
You can enter the Kendall $20k Giveaway at any Kendall Auto Dealership in Washington by visiting the Kendall dealership and entering with one of the three options:
(1) visiting a Kendall dealership
(2) taking any new or used vehicle on a test drive
(3) purchasing a used or new vehicle.
6. Do I need to buy a car to be a winner?
No purchase is necessary to enter or win – there are no fees associated with entry.
7. How does a charity win?
We have pre-selected charities and every entry will allow you to recommend a future charity winner.
CONTEST RULES
MONTHLY SWEEPSTAKES OFFICIAL RULES: KENDALL FORD OF MARYSVILLE, KENDALL SUBARU OF MARYSVILLE, KENDALL CHEVROLET OF MARYSVILLE